HEALTH & SAFETY ALERT
Updated Protocol & Resources


Updated: March22nd, 10am
---
Through our Duty of Care program, we're implementing the necessary processes and procedures to maintain a responsible, safe, and healthy housing environment for all Compass & ARTlab Living residents. Just remember that we're all in this together. Your help and cooperation are vital in preserving a safe and reliable experience.
Please take a moment to review our current preventative efforts, updated protocol, and flexibility options.
JUMP TO:
Current Preventative Efforts
Providing safe and clean environments for our guests and colleagues is always a top priority for Compass Furnished Apartments. We remain committed to upholding the highest standards of cleanliness, and want you to feel at ease when you visit our properties, knowing you'll experience the quality you expect from the Compass Furnished Apartments and ARTlab Living brands.
Our operations team continues to work tirelessly with robust services, standards, and protocols. As restrictions lift, we remain diligent with the following measures:
We continue to provide as much time in between stays as possible. We are and will continue to use professional-grade cleaning products to sterilize surfaces inside and outside of our apartments. We require the use of EPA approved disinfectant products at turnovers and during housekeepings to sterilize.

We continue to wear PPE at all times during maintenance visits, turnovers, cleaning of common areas, and in our warehouses to mitigate exposure.

We are cleaning common areas more often with attention to door handles, and other high touch surfaces.

Like the rest of the world, we are doing our part to practice social distancing. Our warehouse staff who have to be onsite are maintaining safe distances, and our limited in-office crew has increased social distancing measures in between each workstation.
Arrival Process Enhancements
Where possible, contactless access is provided. (Varies by property and location.)

All keys and access devices are sanitized prior to guest arrival.

We provide antibacterial hand soap for guests upon move-in.

Property partners have implemented enhanced cleaning protocols in common areas.

How to schedule Housekeeping:
Our team will work with you to set up all housekeeping needs within your booking process. However, if you'd like to schedule housekeeping after booking, here's the breakdown:
Email our team at

gs@compasscorp.com

to schedule service

Please give us 72 hours notice to make sure we can accommodate your housekeeping needs based on our safety schedule.

You will receive a mandatory screening questionnaire via email.




You must answer the questions and return the email to confirm your housekeeping service.
Please Note: While residents and pets are permitted to be home during scheduled cleanings, we ask that masks are worn and social distancing is practiced.
Housekeeping Schedules
Housekeeping services are fully restored.

Housekeeping will continue to be completed in two (2) hour increments on specific days of the week, based on the property in which you live. Housekeeping services will be available Monday - Friday between the hours of 8:30am- 5:30pm.
Please Note: While residents and pets are permitted to be home during scheduled cleanings, we ask that masks are worn and social distancing is practiced.

Our crew is trained and will continue to deliver this enhanced standard of cleaning with reduced touch points to bring peace of mind for our residents.
COMPASS CLEANING 2.0
Our housekeeping teams are trained in the use of EPA approved disinfectant in our apartments. They have also been educated on the use of Personal Protective Equipment (PPE) (ie. masks and gloves). Proper infection prevention, control protocols, and screening methods are being practiced to ensure and monitor employee health.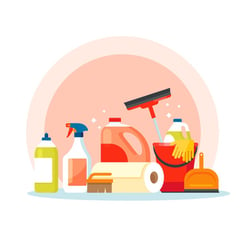 Enhanced Cleaning Protocols
Employees are regularly screened to ensure the safety of our crew and residents.

Each employee is provided with ample PPE supplies.

(i.e. face coverings and gloves)

Hand sanitizing stations and disinfecting wipes are provided in the workspace(s).

Work schedules are made with social distancing protocols in mind.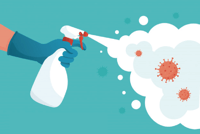 Multi-Point Apartment Cleaning Process
CDC/EPA approved disinfectants are used to clean all apartments and common areas including our staff offices and vehicles.

Cleaning and inspection staff wear PPE supplies in all apartments, work spaces, and common areas within buildings.

All apartment surfaces are sanitized and disinfected by our cleaning team using CDC/EPA approved products.




(Cleaning includes commonly touched areas like door handles, appliance handles, TV remotes, etc.)

Dishes, pots, pans, glasses, small appliances, and kitchen utensils are sanitized in the dishwasher.

Apartment appliances (refrigerator, stove, microwave and dishwasher) are sanitized both inside and out.